Untergangers Central was a community site set up by Trapped Antics. It was intended to be used for sharing videos, pictures and to be used as a directory for parody making needs and discussion. It also had social networking functions built in so it could be used to message other members. Subtitlecomedy was later made an administrator.
Fate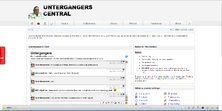 Although the site was initially active upon launch with most active Untergangers joining the site, activity died down within 3 months after the site went up. After a period of time, doubt was strong with the administrators and it was decided that changes would need to be made.
On 26 January 2013, Untergangers.org was launched and replaced Unterganger Central. The social networking functions were removed in an attempt to transform the site into a portal for unterganging related sites as interest was minimal in said functions. Untergangers.org has not changed much short of a visual redesign due to general lack of requirement for expansion as a result of decreased community activity.
On 26 January 2015, the Untergangers.org domain had expired and due to low usage, Trapped Antics had decided against renewing it. Consequently, it leaded to a permanent closure of the website, following the closure of the Untergangers Chat a few months prior. The Unterganger Minecraft Server, which was allocated a subdomain under Untergangers.org, was moved to another hostname.
Administrators
Community content is available under
CC-BY-SA
unless otherwise noted.