Vegas Pro is an editing software released by Sonic Foundry. The software is more advanced than Windows Movie Maker, and can be used for
chroma keying effects
, video layering, and more dramatic video effects. However, on this page, only the basics of Vegas will be covered. The software contains built-in tutorials to help supplement this guide and learn about the more advanced features.
Getting Started
When you open Vegas Pro, the first thing you must do is choose the video files to use. Select the "Project Media" tab and click on "Import Media".
Browse the video library until you find the clip you want to use. Select the video, and then click "Open".
Select the video clip from the bin and drag it onto the timeline. Place it on video track two.
Subtitles
Select the "Media Generators" tab and select "Titles and Text".
Drag the tile that says "Default Text" to Video Track 1, and trim it to fit by dragging the ends.
A window should pop up, allowing you to edit the subtitle. For best results, use the font Microsoft Sans Serif and make the text bold. Set the size at 14, and the scale at 1.140. Next, set the text color to white, the outline color to black, and the outline width to 10. Finally, click and drag the title on the video screen to where you want it on the video.
Copy and paste the title for the rest of the video so you can avoid having to fix the settings every time.
Rendering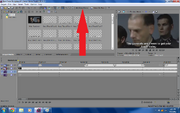 While Sony Vegas has an option to upload your video directly to YouTube, having the file on your hard drive to review first can ensure that your video is the best possible. At the top of the screen is a button labeled "Make Movie". Click on that button and select "Save it to my hard drive". Select a place for the video to be formed, and then choose the video extension that you want to use, and then the video quality. Then hit Render. Once the video is finished, upload it to your preferred video sharing site.
Community content is available under
CC-BY-SA
unless otherwise noted.