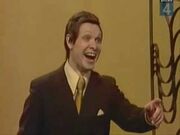 Trololo
, or properly
Я очень рад, ведь я, наконец, возвращаюсь домой
(
I Am Glad I Am Finally Going Home
), is a Soviet song written by Arkady Ostrovsky, which was then popularized by
Eduard Khil
. Its lyrics were originally about a cowboy from the United States, but due to political implications concerning the use of the aforementioned country's culture in the Soviet Union, its lyrics were removed, thus the "non-lexical vocable" character that gave fame to the song and Khil himself.
It is considered to be an unofficial anthem of the Untergangers, due probably to the wartime rivalry between Hitler's Germany and Stalin's Soviet Union. It was first used by vzorkic in the video "Hitler hears trololo song". Since then it is used in other parodies to annoy Hitler, and even snippets of Khil, even those taken March 2010, are even used. A version of the song performed by the Gifford Children's Choir was used in a parody involving that of the Goebbels children singing the Trololo song in front of Hitler.[1] Following Eduard Khil's death, homage parodies that feature him surged in popularity and number. The Downfall Parody Awards even had an Edward Khil Tribute Award to commemorate the parodies that were made as a tribute to Edward Khil and the Trololo in June 2012.
Videos
References
External links
Community content is available under
CC-BY-SA
unless otherwise noted.