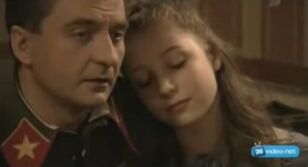 Svetlana Tukhachevskaya is the daughter of Soviet Marshal Mikhail Tukhachevsky.
After her father's arrest, trial and execution in June 1937 she was sent to a special orphanage for children of 'enemies of the people', aged only 12. She was later arrested in 1944 and sentenced to five years in a gulag. She died in Moscow in 1982, having lived to see her father rehabilitated.
It is alleged in "The Tukhachevsky Affair" by Victor Alexandrov that it was said Tukhachevsky doted on his daughter to give her the love he refused to give her mother. He also mentioned that she was a delicate child (when she was twelve she apparently looked no more than nine) and he withdrew her from school and taught her himself. Her company was something of a "refuge" for the Marshal.
In Tukhachevsky, Conspiracy Marshall, she is accurately depicted as being very close to her father, who enjoys her company very much.
A documentary was made of her life: "Svetlana Tukhachevskya, Daughter of Red Napoleon".
In the parodies
In Benad361's Stalin Parodies she has been seen once so far in the parody "Fegelein Foils Stalin's Wunderwaffe Theft". She appears loving and curious of her father's work, asking him several questions. She also seems to have the antic gene in her, asking her 'papa' if she can borrow his Fork of Pwnage to use on the teacher who gave her an E in her anticology test.
Gallery
Community content is available under
CC-BY-SA
unless otherwise noted.