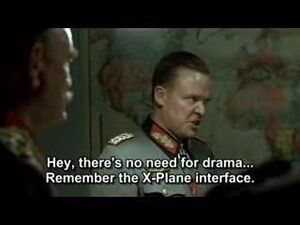 Sim Heil, also known as Der Untersim, was long believed to be the earliest known Downfall parody on YouTube (until Pajarojuarez's La Caida was discovered). The video was first uploaded on 10 August 2006 by DReaperF4 with Spanish subtitles. It became so popular that an English-language version of the subtitled video was made and uploaded on 30 August the same year.
In the video, Hitler rants about the release of Microsoft's Flight Simulator X, citing issues within the game as well as the lack of certain features in the demo. The parody, aside from using the Original Bunker Scene, includes the Fegelein talking to Traudl and Gerda scene that precedes it.
History and current status
Like most of the early Downfall parodies, it was taken down in 2009 by Constantin Film during the 2009-2010 DMCA crisis. At the time of the removal, the parody had about 230,000 views, as seen at the "ghost channel views" (the total channel views, that remain even after the video in question is removed, now not possible anymore due to channel layout change).
DReaperF4 commented on his channel that he will not be reuploading the original video, because he received a final warning from YouTube. Instead, he uploaded it on Megaupload, only to be later removed. However, another YouTube user, Twix101, manage to download it from Megaupload before it got removed and reuploaded it under the name of Hitler critica FSX. On April 2012, Twix101 closed his account and the video was no longer available on YouTube.
On 7 July 2012 MabusParodies reuploaded the video after he downloaded it from a link provided by DReaperF4 on his channel. Both parodies gather views slowly.
A mirror of the English-subbed version of Sim Heil was uploaded on June 2011 by the Russian Know Your Meme site. As of now the original author hasn't stated any plans on bringing the video back up.
Trivia
Despite being credited as the earliest known parody, a German-language parody entitled Mein Kampf um Mathilde was uploaded on 19 July 2006, roughly a month earlier. The latter video, however, was a humorous fan dub rather than a subtitle-based parody which would be a basis for future Downfall videos.
An even earlier parody entitled La Caida (La versión No Oficial), with Hitler complaining about his food bill, was uploaded on 3 September 2005. The latter parody has garnered over 100,864 views before it was removed by a copyright strike.
See also
External links
Community content is available under
CC-BY-SA
unless otherwise noted.