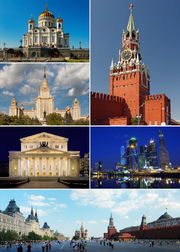 Moscow
is the capital city of Russia, formerly the
Soviet Union
.
The city is a major political, economic, cultural, scientific, religious, financial, educational, and transportation center of Russia and the continent. Moscow is the northernmost megacity on Earth, the most populous city in Europe, and the fifth largest city proper in the world. Its population, according to the results of the 2010 Census, is 11,503,501
Downfall Parody Universe
Moscow is the primary setting of the Stalin Parodies, mainly because it is where most of Tukhachevsky, Conspiracy Marshall is set and because of its political significance. It is in this city that Joseph Stalin always plans his latest scheme and from where Mikhail Tukhachevsky prepares his latest antic against Adolf Hitler.
Stalin's speech from 7 November 1941 was held in Moscow.
Community content is available under
CC-BY-SA
unless otherwise noted.