Mata O'hara
The blurred redhead to the left is "Mata O'hara"

Real Name

Unknown

Known for

Being Fegelein's woman
Being topless
Being redhead and topless

Nicknames

Fegelein's broad
The topless chick
Fegel-woman
Hungarian chick (to Mohnke)

Played by

Maria Semenova
Mata O'hara was the sobriquet which the American historian James P. O'Donnell assigned to Hermann Fegelein's mistress.
In his book, "The Bunker", O'Donnell wrote that this woman was of either Irish or Scottish descent and married to a Hungarian diplomat stationed in Berlin. Her husband was arrested after Hungary's occupation by Germany. Acording to O'Donnell, she was also a British agent.
Fegelein met her during the summer of 1944, at a party held in Goebbels' villa. After she became his mistress, Fegelein arranged for her to stay in a house located at Bleibtreustraße 11, Berlin.
After Heinrich Himmler's attempts to negotiate with the Allies were discovered by Hitler, he ordered the SS to bring in Fegelein. According to O'Donnell, a detail headed by officer Helmut Frick arrived in the residence, but Fegelein assured them he would come of his free will later. When a second detachment, commanded by Obersturmbanführer Peter Högl, came with explicit orders to arrest Fegelein, his mistress had already fled.
In Downfall Universe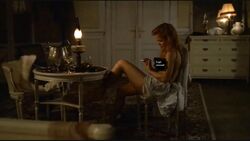 The historical details of the arrest were simplified in the film, and it shows only Högl (portrayed by Igor Romanov) coming in and ordering his men to grab Fegelein, while the mistress (played by Marina Semenova) flees in panic.
Her topless appearance caused some parodies to be flagged for nudity, but in most parodies, it is cut out.
External links
Community content is available under
CC-BY-SA
unless otherwise noted.