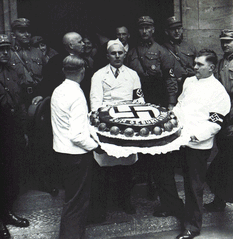 The
List of Parody Universe Birthdays 
is a list created to help
Untergangers
with easily finding out when it's the birthday of a parody universe character. This can help them to make special parodies about a certain person's birthday and it can also help the moderators of the Featured Content, because with this list they can look up if it is the birthday of a parody universe character in a week in which they don't know what to post and can then post an image or article of the character.
Downfall Characters
Stalin Parodies Characters
Arab Leaders
Other Parody Universe Characters
Notes
All characters that are added to this list are to be added in alphabetical order. You can do this in visual mode by right clicking on a row and then you can insert a new one, or in source mode by appending this before the table's end (|}):
|(character name)
|(day and month)
|(day, month and year)
|-

Because there are so many characters in the parody universe this list is currently not complete.
You can look up if you share your birthday with that of a parody universe character by pressing Ctrl+F and then type in the date of your birthday.
Credits
This list is compiled by DictatorAntics, MabusParodies and Subtitlecomedy. The sorting mechanism was added by mfaizsyahmi. `
Community content is available under
CC-BY-SA
unless otherwise noted.