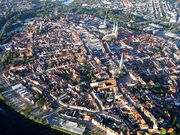 Lübeck
, also known as
The Hanseatic City of Lübeck
(
Hansestadt Lübeck
) and
Lubeck
, is a German port town.
It is the second-largest city in Schleswig-Holstein, in northern Germany, and one of the major ports of Germany. It was for several centuries the "capital" of the Hanseatic League ("Queen of the Hanse") and, because of its Brick Gothic architectural heritage, is listed by UNESCO as a World Heritage Site.
As of 2012 it has a population of around 213,000.
In Downfall Universe
It was mentioned in the film. Himmler travelled to the city and met with the Swedish mediator Count Folke Bernadotte, issuing him a surrender proposal to the Western Allies. Hitler was enraged after reading a memorandum on the BBC report about the attempt, and demanded "Holen Sie mir Fegelein" (Bring me Fegelein) for the first time in Downfall. Burgdorf answered that they haven't seen him in days. Later, Günsche told Hitler that Fegelein is nowhere to be found, thus bringing about the "Bringen Sie mir Fegelein!" scene. It is also mentioned in some parodies.
Wilhelm Mohnke was born in Lübeck.
Behind the scenes
Community content is available under
CC-BY-SA
unless otherwise noted.