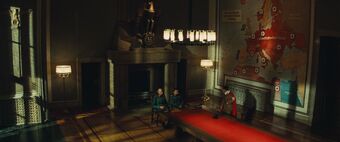 The Inglourious Basterds Hitler Rants Scene is a scene from the 2009 film Inglourious Basterds, used by many Untergangers.
In Inglourious Basterds
The scene begins with Hitler shouting "Nein" seven times. He tells his two generals present in the room that he's sick of the Basterds and especially the Bear Jew, whom he thinks is a golem. The generals dismiss this, but Hitler wants them to bring the Bear Jew to him as proof. He expresses how he wants them dead, hanged on the Eiffel Tower, and thrown into Paris's sewers for the rats.
He then calls Kliest through the intercom, issuing an order that the Bear Jew will no longer be referred to by that name. Kliest confirms the order and asks Hitler if he wants to see Private Butz, the sole survivor of the last unit attacked by the Basterds. Hitler thanks him for reminding him and tells him to send him in. He then slumps back into his chair.
In Parodies
The scene has been used by many Untergangers, especially Hitler Rants Parodies, who used it in at least three parodies. In almost all, the IB Hitler is seen ranting against Dolfy.
The scene is also used in Fegelein's Screamer Pranks on Inglourious Basterds Hitler, where Hitler is being pranked by Fegelein.
Transcript
German transcript and English translation
Speaker
German
English
IB HITLER
Nein, nein, nein, nein, nein, nein, nein!
No, no, no, no, no, no, no!
Was alles soll ich von diesen Judenschweinen noch ertragen?
How much more of these Jewish Swine must I endure?
Schlachten meine Männer ab wie Fliegen!
They butcher my men like they were fleas!
Kennen Sie schon das neuste Gerücht, das sie in ihrem angstgetriebenen Wahn verbreiten?
Do you know the latest rumor they've conjured up in their fear-induced delirium?
DER!
That one...!
...der meine Männer mit einem PRÜGEL totschlägt!
...that beats my boys with a bat!
DER, den man "Bärenjude" nennt, soll ein Golem sein.!
The one they call "The Bear Jew"... is a Golem!
GENERAL
Das ist doch Soldatentratsch.
This is just soldiers' gossip!
Kein Mensch glaubt wirklich, dass der "Bärenjude" ein Golem ist.
No one really believes "The Bear Jew" is a Golem!
IB HITLER
Und wenn doch?
Why not?
Die schlüpfen uns doch ständig durch die Finger wie Gespenster.
They seem to be able to elude capture like an aparition.
Die nach Belieben erscheinen und verschwinden können!
They seem to be able to appear and disappear at will!
Sie wollen beweisen, dass sie aus Fleisch und Blut sind?
You want to prove they're flesh and blood?
Dann bringen Sie sie mir!
Then bring them to me!
Ich werde sie nackt an ihren Füßen am Eiffelturm aufhängen!
I will hang them naked, by their heels, from the Eiffel Tower!
Und ihre Leichen in die Kanalisation werfen lassen… dass die Ratten von Paris sich an ihnen mästen!
And then throw their bodies in the sewers... for the rats of Paris to feast!
Kliest!
Kliest!
KLIEST
Ja, Mein Führer?
Yes, My Führer?
IB HITLER
Befehl, an alle in Frankreich stationierten deutschen Soldaten.
I have an order I want relayed to all German soldiers stationed in France.
Der jüdisch Entartete, bekannt als "Bärenjude", ist von jetzt an nie mehr als "Bärenjude" zu bezeichnen.
The Jew degenerate known as "The Bear Jew", henceforth, is never to be referred to as "The Bear Jew" again!
KLIEST
Ja, Mein Führer!
Yes, My Führer!
Wünschen Sie noch den Gefreiten Butz zu sehen?
Do you still wish to see private Butz?
IB HITLER
Wer oder was ist ein Gefreiter Butz?
Who and what is a private Butz?
KLIEST
Der Soldat, den Sie persönlich treffen wollten.
He's the soldier you wanted to see personally.
Sein Trupp ist in einen Hinterhalt der Juden von Leutnant Raine geraten.
His squad was ambushed by Lt. Raine's Jews.
Er hat als Einziger überlebt.
He was its only survivor.
IB HITLER
Selbstverständlich will ich ihn sehen!
Indeed, I do want to see him!
Danke, dass Sie mich erinnern.
Thank you for reminding me.
Schicken Sie ihn rein.
Send him in.
Note: The English transcript is from the movie's subtitles.
Trivia
The number of "nein"s have been confused by some parody makers unfamiliar with the film to be five times. This is because the first "nein" starts earlier, while the previous scene with Aldo Raine is still in frame. Most sources for this scene used in making parodies thus discard the first "nein", leading to the misconception.
Gallery
External links
Community content is available under
CC-BY-SA
unless otherwise noted.