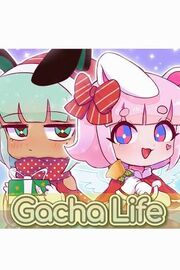 Gacha Life is a free-to-play role-playing game, where you can create your own characters using different combinations of hairstyles, clothes, etc. The game was created by Lunime, who also created Gachaverse and other games following the "Gacha" concept.
In Downfall Parodies
Downfall Parodies made using Gacha Life are, according to Gachaganger in Hitler's Bizarre Gacha Adventure, rare. There are some Gacha Life Downfall Parodies that are not made by Untergangers
Untergangers who used Gacha Life
According to VileHQ, there was an Untergangerin formerly known as Arceus who is the first Unterganger to use Gacha Life to make parodies but the parodies are said to be deleted and also according to him, Gachaganger "relit the match Arceus lit", he continued what has been started.
Trivia
The current update of Gacha Life received some negative reviews from Gachatubers, people who make videos using Gacha Life. The update removed 70% of the design choices of v1.1.0, the old version, in an effort to try to stop inappropriate content.
Community content is available under
CC-BY-SA
unless otherwise noted.