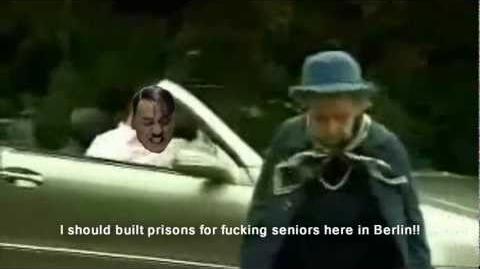 Fegelein's Grandma, also known to some as Grandmalein, is Fegelein's grandmother in the Downfall Parody Universe. Although nothing is truly known about Fegelein's actual grandmother, the concept of Fegelein's grandmotherwas created by Staedty86, who claims Fegelein's grandmother is who the antic master supposedly got his nasty genes from (at least in Hitler's point of view). Hitler estimates/claims that she must be nearly one-hundred years old. The concept of Fegelein's grandmother was inspired by any elderly woman/women with amazing physical, combat abilities used to own abusive people (in all scenarios, Hitler) that have been caught on tape.
Appearances
The first appearance of Fegelein's Grandmother occurred in Staedty86's parody, Hitler encounters Fegelein's grandma, in which Hitler explains to Gunsche what happened while driving his brand new Mercedes-Benz. The flashback begins with Jodl and Krebs skateboarding in a park, when all of a sudden the camera switches to the intersection in which Hitler is impatiently waiting for Fegelein's Grandmother to cross. Outraged by her unthinkably slow pace or possibly an antic being performed, Hitler simultaneously honks the horn and steps on the gas while in the parking gear, startling and angering the antic master's grandma. As Hitler rants and honks his Mercedes-Benz's horn multiple times, Fegelein's Grandma, with a heavy purse in her hand, reels back with her non-idle hand and uses the purse to smash the front of Hitler's Mercedes, hitting the license plate, and thus allowing the airbag to be deployed, hitting Hitler square in the face. Back at the bunker, Hitler commands Gunsche to find and bring Fegelein's Grandmother to him.
The second appearance in which Fegelein's Grandma appeared in Staedty86's parodies was in Hitler goes criminal, in which Hitler plans to rob female senior citizens due to their high vulnerability, in order to improve Germany's spiraling economy. Hitler tried two times to rob female senior citizens, but unfortunately, it was the same person, which just so happened to be Fegelein's Grandma, who during both of the two attempted robberies, beat Hitler senselessly. To avoid Fegelein's Grandmother, in his third attempt to steal money, he and his generals tried to rob a bank, but out of nowhere, Fegelein's Grandmother reappears, and after Hitler is left behind in his party's state of panic due to her presence, Hitler is beaten senselessly again.
Trivia
Despite Fegelein having a Grandmother in Staedty86's parodies, there is no such parody in existence in which Fegelein interacts or meets with his Grandma
Community content is available under
CC-BY-SA
unless otherwise noted.