"Trololololololo..."
―Eduard Khil while singing
Eduard Khil
Eduard Khil. After the Trololo, he looks like he's ready to teach you how to dougie.

Born

4 September 1934

Died

4 June 2012

Name

Eduard Anatolyevich Khil

Awards

People's Artist of the RSFSR

Notable for

Nickname(s):

The Trololo Guy
Mr. Trololo
Annoying Russian Man (by Hitler)
Eduard Anatolyevich Khil (Russian: Эдуард Анатольевич Хиль; 4 September 1934 – 4 June 2012) was a Russian baritone singer. His most famous song was I Am Glad Cause I'm Finally Returning Back Home (Я очень рад, ведь я, наконец, возвращаюсь домой), more popularly known as the Trololo song.
Eduard Khil was born on 4 September 1934 in Smolensk. After graduating, he fell in love with pop music after attending a K.I. Shulzenko concert, and started to perform popular music. Between 1977 & 1979, Khil taught solo singing at the Saint Petersburg State Theatre Arts Academy. Khil toured in over 80 countries and lived in St. Petersburg.
After retiring from a singing career, Khil slowly faded into obscurity in his later years. In 2010, Khil reclaimed the spotlight when he became the subject of the viral Trololo internet meme on YouTube.
Eduard Khil was well aware of the meme and has spoken positively of it in an interview.
Eduard Khil was hospitalized on 29 May 2012 after having a stroke that severely damaged his brain irreparably. He died on 4 June 2012 in Saint Petersburg.
In Downfall Parody Universe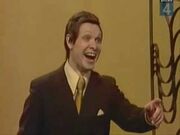 Eduard Khil is most commonly presented as the annoying Russian who sings the nonsense (to Hitler, anyway) called Trololo. Because of this, Hitler can't understand a thing Khil says. Khil also tried to use his fame to extort money from Vasily Chuikov, who asked for his autograph before telling him to piss off. Because of his history of annoying Hitler, Fegelein sees Khil as a powerful ally and an asset to force antics upon the Bunker.
He has a Mirror Parody Universe counterpart named Lihk Draude (basically Eduard Khil backwards). His most popular song is named Ololort (again, Trololo backwards). It is also very popular, and is liked by the whole world.
After his death in June 2012, many Untergangers paid tribute to Khil in the form of parodies, often depicting Hitler in a sad state after hearing about Khil's passing. The Downfall Parody Awards even had a category for the best Eduard Khil Tribute Parody in June 2012.
Community content is available under
CC-BY-SA
unless otherwise noted.