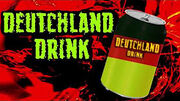 "Bring me more Deutschland Drink! DEUTSCHLAND DRINK! DEUTSCHLAND DRINK!! DEUTSCHLAND DRINK!!!"
Deutschland Drink is a fictional fizzy drink which is both mentioned and seen in the parodies. The name of drink is based on a mondegreen appearing in a behind the scenes video, specifically the Mathias Gnädinger interview scene.
Deutschland Drink was first mentioned in Paul Stompbox's parody Hitler Works at Krusty Krebs, where it is mentioned as part of Göring's order. Hitler denied filling any of his order, the drink included, so Göring punished Hitler personally.
In 2017, IG86 released an "official" advertisement of Deutschland Drink[1]. In this video, Göring is portrayed as the CEO of the Deutschland Drink Company, which is responsible for production. In this advertisement, Hitler is portrayed as a consumer, disappointed with the quality of other drinks like Coca-Cola or Pepsi. After he downs the drink, he endorses the product and demands for more of it.
Notes
↑ In this case, spelled incorrectly as Deutchland Drink
External links
Community content is available under
CC-BY-SA
unless otherwise noted.