Der Untergang: The Parody is an ongoing community collaboration parody that spoofs the entire film of Downfall. It is the second full-length parody, preceded by The Downfall Parody Movie by Youtuber ASSHOLELA (which has since been removed). The entire movie has been organized into a playlist here. Due to the massive scale of Untergangers and Untergangerins participating in this, this is one of the most ambitious parodies ever conceived. Soalric Parker was the manager and moderator of this collaboration.
As of 2016, it is unknown if this collaboration will come towards completion, mainly due to less Untergangers wanting to contribute to the project, as well as Soalric's retirement, effectively rendering this project without a host and thus making it harder for Untergangers who wish to contribute to actually do their part.
Setting
The parody takes place within an online virtual reality game, The Greater War, which means that each character is a virtual representation of him or herself. The main conflict surrounds an online rivalry between Hitler and Stalin, and each one's attempts to force the other out of the game.
Participants can expand and put forth their own ideas, of course. This is just a general plot outline.
Plot
List of episodes so far
Making Of
Call for a full-movie parody
Talks calling for a full-movie spoof have been around for a long time by a lot of people, fellow Untergangers and fans alike. Most declare that they themselves wished to spoof the whole movie or requested other influential Untergangers (most notably HRP) to do it.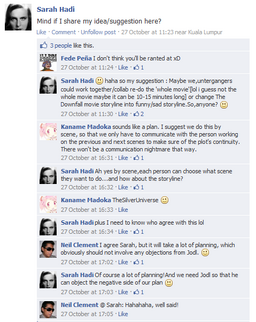 These suggestions can be traced back to as early as August 2010 in a forum thread by KazMalino.[1] Though a lot of discussions occurred among the First-generation Untergangers back then, the project in the end ground to a halt.
The first suggestion for a full movie parody that finally took off the ground came from a forum thread by PikaParodies on 2 August 2012.[2] For about two months the thread received around 6 replies. Later on 27 October 2012, sarahsktr posted on the fan group, suggesting a very similar idea for a collab spoof of Downfall, albeit to a much lesser degree (10–15 minutes). She was suggesting a happy/sad (drama) themed parody.
mfaizsyahmi supported sarahsktr's plan, replying on the FB post with suggestions on how to coordinate such a large collaboration. His idea was to have everyone claiming a scene, and each would only have to communicate with the person working with the previous or next scenes to ensure plot continuity.
He quickly passed the suggestions on the forum thread, with an addition of a proposed overseer (he suggested HRP for the job). In the end, Soalric, who had previously stated his interest in partaking in such collaborations, agreed with the general plan and on 23 November 2012 uploaded the first part, commencing the collaboration project.  He has since acted as an overseer of sorts on the project.
In the month leading to the first upload, discussions in the old chat room finalized the series' general theme, and mfaizsyahmi circulated news of the collaboration on the chat to increase interest among Untergangers.
References
External links
Community content is available under
CC-BY-SA
unless otherwise noted.