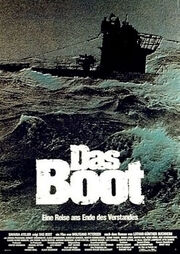 Das Boot is a 1981 epic WWII war film, written and directed by Wolfgang Petersen. It is an adaptation of the 1973 German novel of the same name by Lothar-Günther Buchheim. Set in World War II, it tells a fictional story of U-96 and its crew.
The Film
The story is told from the viewpoint of Lt. Werner, who was assigned as war correspondent to U-96 in the early periods of WWII. He and the crew of the submarine experiences intense battles, endure relentless storms, carrying out impossible missions, and handle emergencies that endangers their mission, if not their lives.
The film explores what appears to be stark differences in ideologies of the crew. Most of the crew, which include veterans, are unsupportive of National Socialism. Among them, only the young 1WO was an ardent Nazi.
The film drew high critical acclaim and is seen as one of the greatest of all German films, along with titles such as Nosferatu, Metropolis, The Blue Angel and, not surprisingly, Downfall.
The novelist of Das Boot, Lothar-Günther Buchheim, had criticised the film for turning his anti-war story into glorification of the war and German nationalism. The cast, he says, over-acts in unrealistic manner, and the director Peterson put too much emphasis on aesthetics and effects that are "overdone and cliche".
The Parodies
This film is the main source of the U-Boat Parodies, with all the main characters of film unsurped into the Parody Universe. Starting out as a commentary of Downfall Parodies by HitchcockJohn, the cast were soon involved in activities of the same manner of those in Downfall parodies, such as Lt. Werner that went to become an Antic Master of his own, and the Captain that points maps.
Trivia
Gallery
Community content is available under
CC-BY-SA
unless otherwise noted.