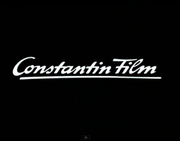 Constantin Film AG
is a
German
film production and film distribution company. The company has been recently known for their film
Downfall (Der Untergang)
, of which it was the subject of various
Hitler parodies
.
Parody removal
DMCA crisis
The company has taken an "ambivalent" view of the parodies, and has asked video sites such as YouTube to remove many of them, much to the disappointment of many Untergangers. On April 21, 2010, the producers initiated a massive removal of parody videos on YouTube. However, there has been a resurgence of the videos on the site since the mass removal. On July 28, 2010, Constantin responded by issuing DMCA takedown notices on videos which had countered the blocking of the videos using a Fair Use argument. Constantin Films' actions have drawn the scorn of Untergangers from around the world, so much so that in the Downfall parody universe, Hitler and Fegelein reluctantly join forces to combat them.
Since October 2010, Constantin no longer blocks any parodies and instead puts ads on them.
Return
Despite the end of the parody removal, in mid-February 2012 a series of strange glitches caused many Downfall parodies to be blocked. The glitch was later solved.
However, in the beginning of 2013, all parodies that are longer than 6 minutes are being blocked. Many Untergangers, like HRP, have reuploaded the blocked parodies in parts shorter than 6 minutes to prevent them from being blocked again. It's being assumed that this is a move by Constantin to annoy uploaders and viewers that want to watch the full movie.
Striking Back
In mid-May 2020, certain parodies, which contained everything from the movie except for the Original Bunker Scene, are getting blocked almost worldwide except for the United States (and in some cases, Canada, Germany, Italy, and Austria), according to F-A Alexander's research. This happened to Untergangers such as QHP, Equiduo, F-A Alexander, and Reich Motion Pictures who decided either take a break or no longer continue from Unterganging.
List of films by Constantin Film
The Never Ending Story (1984)
The Name of the Rose (1986)
The House of the Spirits (1993)
The Fantastic Four (1994)
Smilla's Sense of Snow (1997)
Der Schuh des Manitu (2001)
Bandits (2001)
Resident Evil (2002)
Resident Evil: Apocalypse (2004)
Before the Fall (2004, No Relation with Film below)
Downfall (2004)
Fantastic Four (2005)
Basic Instinct 2 (2006)
Perfume: The Story of a Murderer (2006)
Fantastic Four: Rise of the Silver Surfer (2007)
Resident Evil: Extinction (2007)
The Baader-Meinhof Complex (2008)
The Wave (2008)
Pandorum (2009)
Resident Evil: Afterlife (2010)
The Three Musketeers (2011)
The Vow (2012)
Resident Evil: Retribution (2012)
Fünf Freunde (2012)
Er Ist Wieder Da (2015)
Gallery
External links
Community content is available under
CC-BY-SA
unless otherwise noted.