Carl Gustaf Emil Mannerheim
was a Finnish military leader and statesman. Mannerheim served as the military leader of the Whites in the Finnish Civil War, Regent of Finland (1918–1919), commander-in-chief of Finland's defense forces during World War II, Marshal of Finland, and the sixth president of Finland (1944–1946).
Real Life
Mannerheim made a career in the Imperial Russian Army, rising to the rank of lieutenant general. He also had a prominent place in the ceremonies for Tsar Nicholas II's coronation and later had several private meetings with the Tsar. After the Bolshevik revolution, Finland declared its independence but was soon embroiled in civil war between the pro-Bolshevik "Reds" and the "Whites", who were the troops of the Senate of Finland, supported by troops of the German Empire. Mannerheim was appointed the military chief of the Whites. Twenty years later, when Finland was twice at war with the Soviet Union from November 1939 until September 1944, Mannerheim successfully led the defence of Finland as commander-in-chief of the country's armed forces. In 1944, when the prospect of Germany's defeat in World War II became clear, Mannerheim was elected President of Finland and oversaw peace negotiations with the Soviet Union and the UK. He resigned the presidency in 1946 and died in 1951.
In a Finnish survey 53 years after his death, Mannerheim was voted the greatest Finn of all time. Given the broad recognition in Finland and elsewhere of his unparalleled role in establishing and later preserving Finland's independence from Russia, Mannerheim has long been referred to as the father of modern Finland, and the Finnish capital Helsinki's Mannerheim Museum memorializing the leader's life and times has been called "the closest thing there is to a Finnish national shrine". In addition, he is the only Finn to have held the rank of field marshal, an honorary rank bestowed upon especially distinguished generals.
Parody Universe
There are some parodies about Mannerheim in youtube. Hitler Rants Parodies made a parody of Mannerheim ranting.The clip of Mannerheim ranting comes from a video promoting the Helsinki International Film Festival.Mannerheim is a counterpart of Hitler.Mannerheim,same as Hitler,always rants about a problem.
Gallery
Video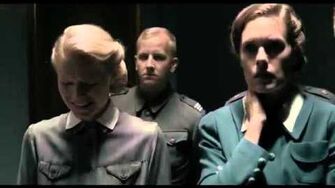 Community content is available under
CC-BY-SA
unless otherwise noted.